How to Pass Your UK Driving Theory Test on Your First Attempt
Getting a drivers' license is an incredibly important step toward becoming a responsible road user. Acquiring a driving license not only shows you can safely drive and travel anywhere you want, but also makes it relatively easy for you to be identified in the case of accidents or any other misfortune that might occur in the course of driving.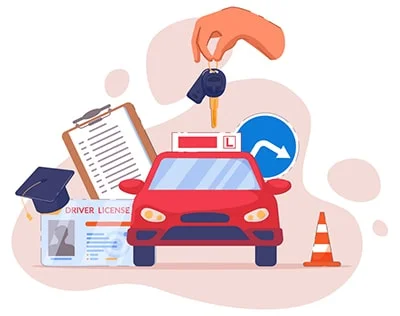 The DVSA issues a driving license for trained and qualified drivers. Of course, this is to ascertain that those who drive various vehicles are certified to drive safely without causing any accidents. And in line with the laws of the UK, without a valid driving license, you are not legally mandated to drive any vehicle. But how do you get a driver's license?
To put it simply, there two important steps to becoming a licensed driver. The first step is passing the practical side of the driving exam or test, and this is usually conducted on the road, behind the wheel of a vehicle. It is the part that many people associate with a driving test. However, there is also another session or part of the driving test known as the theory test.
Just as the name implies, the theory driving test gauges a potential driver's knowledge of the rules and regulations of the road. The theory test not only costs money each time it's taken but is also fairly tough, so it is best to adequately prepare for it to have the best chance of passing it on your first attempt.
So, how do you prepare for a driving test theory?
First and foremost, it is worth noting that the driving theory test is intended to evaluate your understanding of road and highway safety and to assess your awareness as a motorist. And it is usually taken before your practical driving exam and as earlier explained, it is one of the initial steps on your journey to becoming a certified driver in the United Kingdom.
Before we discuss how you can prepare for this type of test, let us briefly talk about what the whole exam is about. The driving test theory is made up of two parts, including the multiple-choice section and the hazard perception section, both of which you'll take in the same sitting for motorcycles and car tests. And if you pass one section but fail the other, you will have failed the whole driving theory test, implying that you'll have to redo the entire exam! Once you are through with your theory driving test, you can then apply for the practical driving test.
The multiple-choice section of the driving theory exam:
The theory driving exam is a computer-based test and is designed to gauge your overall understanding of the common theory behind driving. Generally, you will have 57 minutes to finish your test. There is a quarter an hour practice session you can work through before you begin the test. The questions in this particular section usually vary depending on the category of vehicle you are looking to obtain a driver's license for. For instance, a car driving theory test will only feature car-specific questions that won't appear in any other test.
The questions as well as multiple answer options will be displayed on a screen, where you'll be required to choose the right answer to each question by simply touching the screen. Of course, you are free to navigate between questions and somehow flag questions you want to attend to later during the test. Once you are through with your multiple-choice section, you'll proceed to the hazard perception part:
Hazard perception exam:
This forms the second part of your driving theory test. As previously explained, you must pass it together with the first section. This part is designed to test your knowledge of potential hazards whilst driving in different conditions. It is also offered through the computer, but you respond by simply clicking a button on the mouse. It usually features a series of fourteen clips each about a minute long, which feature common daily traffic scenarios. And in every video, there will be one or more developing hazards ranging from vehicles, road conditions, bicycles, or even pedestrians. The faster you identify a potential hazard that may need the attention of a driver, the higher your score.
In the case of motorcycle and car exams, there are fifteen identifiable traffic hazards and you can score up to five points on each hazard. In the case of bus and lorry hazard tests, there are nineteen videos with a total of 20 identifiable hazards.
Preparing for your driving theory exam:
Once you have made up your mind that you want to pass the theory driving test, you'll have to prepare yourself adequately. If you didn't know, nearly 70% of people fail their driving theory tests and this can be attributed to being unprepared! So, before you can book your theory driving test, make sure you are ready for it by thoroughly revising all the sections of the test.
However, choosing the most appropriate driving theory test practice as well as revision materials can sometimes prove to be a daunting and intimidating task. Thankfully, the Driver and Safety Vehicle Standards Agency (DVSA) produces relevant reading materials in the essential skills range. And these books boast nearly everything you need to pass your theory driving exam, particularly the multiple questions section. To be more precise, these books contain sections of text for motorcyclists, an e-book for car drivers as well as full references throughout for easy learning. You'll also get questions and answers for revision purposes, including practice for case studies. There are also official DVSA explanations for all revision questions, allowing one to fully grasp and understand the answers.
With the official DVSA revision questions book at your disposal, you can study background information on every topic which are presented in an easy-to-read and remember way, customize your practice by topic to gauge how much you have learned and sit multiple mock theory tests which provide the closest experience to the actual driving theory exam.
Regarding the hazard perception section, the DVSA has created a training DVD for the hazard perception exam known as the Official Guide to Hazard Perception. You can purchase this DVD from one of the many high street books shops. You can also order it online from the Stationery Office.
Another great way to prepare for your driving theory exam is to sit plenty of practice exams to ensure that you are getting a consistent pass rate before you can go ahead and apply for your theory test. And there are nearly endless resources you can obtain practice theory tests from. A number of large book stores usually have a selection in print. As always, it is important to confirm that the book is up to date and also relevant to your local driving rules. Searching online for practice driving theory exams can also offer a wealth of results, including downloadable practice tests.
The bottom line:
If you want to pass your driving theory test on your first attempt, it is highly recommended that you don't book your theory test until you have read, thoroughly understood, and revised all the DVSA revision questions, answers as well as explanations. Also, make sure that you take as many practice tests as possible. The more practice theory exams you can take, the more experience you'll gain of sitting under an actual theory driving test environment.